Díky tomu že jsem u Robina Fittona dostal plnou podporu v propagovaní Gruntz v našich lesích a hajích rozhodl jsem se že vytvořím menší seriál o této hře v prvním "díle" se budeme věnovat jednotkám, jejich statistkám a tvorbě armády jako takové.
Co je vlastně hra Gruntz 15mm? jedna se o scifi skrimishovou hru v měřítku 15mm s dílen Robina Fittona. Na rozdíl od většiny ostatních systému (Stargrunt II, Tommorow Wars, FAD,Platoon Leader) je daleko otevřenější nováčkum, obsahuje u nás tolik oblíbené bodové hodnoty. ve hře povedete nejen družstva vojáků ale také různé grav-biky, jeepy ale taky těžké tanky, mechy, VTOLy nebo obří monstra (jako třeba Godzilla). Hra ovšem je typický sandbox systém takže si musíte pro vaše jednotky vytvořit statcardy ať už zdarma na stránce
Gruntomatic
nebo třeba za pomoci aplikace Barracks. Na serveru Gruntomatic naleznete take již spoustu předvytvořených jednotek
Statcard vytvořená pomocí aplikace Barracks
Statistiky
Pěší modely použivají nasledující statistiky
Shoot- určuje jak dobře jednotka střílí tento bonus přičítate k hodu 2d6
Assault- stejný jako shoot s tím rozdílem že se používa pouze v boji zblízka
Guard- určuje jak obtížné je jednotku zasahnout
Soak- představuje pancíř jednotky (pokud je jednotka zasažena hazí se 2D6 + poškození zbraně)
Skill- pokud jednotka musí provést nějakou specialní akci např. položení naloží, otevření přetlakových dveří atp.
Mental- morálka tuto hodnotu je třeba podhodit pokud jednotka musí skladat test morálky
vozidla nemají atributy shoot a assault ale k těmto úkonům použivají statistiku skill.
všechny jednotky kromě gruntz a squad attachmentů mají hitpointy které značí jak moc odolavají soustředěné palby u vozidel pak některé hitpointy spustí kritický zásah který muže snižit jeho bojeschopnost na bojišti
Typy jednotek
Ve hře Gruntz naleznete mnoho různých jednotek každopadně ve většině her budete potřebovat minimalně 1 velitele (Commander) a 2 pěší družstva (Gruntz). funkci velitele muže nahradit vozidlo vybavené modem ( o tom později) Command-tek. nyní si popíšeme typy jednotek
Commander
- pěchotní velitel muže být vybaven různou zbrojí a zbraněmi normalně nedostupné pro družstva Gruntz. narozdíl od nich má také více hitpointů (je možná hrát i hru kde velitel má pouze jeden hitpoint ale brzy zjistíte že velitelé jsou velmi duležití díky svým specialním akcím - push move a take the pain.
Gruntz -
Tvoří páteř vaší "armády" jedná se o pěchotní družstva většinou osmičlenná. každé družstvo muže mít až dva squad attachmenty - pěšáky nebo drony vybavené specialní zbraní jako jsou raketomety, kulomety a další různé podpůrné zbraně. V této kategorii najdeme i pěchotu vybavenou Power armourem.
Gruntz specialist -
Prvním typem specialistů jsou pěší specialisté - tato kategorie je určena pro týmy těžkých zbraní ale také specializované jednotky jako jsou podpůrné velitele, zdravotníky a inženýry.
Vehicle Specialist -
Do této kategorii spadají menší vozidla jako jsou různé motorky, jeepy, malé mechy, bezpilotní drony
Fixed Artillery
- Lafetované kanóny, obrané věže a různé zbraňové systémy na grav/hover platformách
Self-Propelled Artillery
- Samohybné houfnice
Ground Support Vehicle -
Pozemní vozidla schopná převažet pěchotu, mužou se pohybovat různě (grav, hover, mech, pasy, kola) mohou být i ozbrojené ale jejich hlavním cílem je převažet Gruntz a další pěší jednotky po bojišti
Airsupport Support Vehlice
- Stejné jako předchozí ale v tomto připadě se jedná o helikoptéry a různé VTOLy jejichž úkolem je taktéž převažet pěchotu
Air Attack Vehicle
- VTOLy a Helikoptéry které místo pěchoty nesou těžkou výzbroj
Tank
- vozidla která jsou určena k zabijení ostatních vozidel stejně jako ostatní pozemní vozidla semuže jednat v walker, hover, grav, pasovém nebo kolovém provedení. Tato vozidla jsou těžce vyzbrojena a obrněna.
Mecha
- velcí bojový roboti ve stylu battletechu, těžce panceřovaní, nesou haldu zbraní a protivník má co dělat aby tyhle věci zastavil.
Fighter
- Stíhačky a bombardéry používají trochu jiná pravidla než ostatní letající stroje ale jejich učel je ničit pozemní cíle
Superheavy tank
tam kde nestačí obyčejné tanky lze použít Superheavy, znáte je ze science-fiction od Warhammeru (např. Baneblade) až po Red Alert (Apocalypse Tank). mnoho zbraní a těžky velmi těžký pancíř.
Superheavy Air Support vehicle
tuto kategorii zabírají těžké výsadkové lodě schopné převažet pěchotu i stroje
Monster
několikametrová monstra známa z Bečkových filmu - Godzilla, Kingkong ale i třeba inkarnace bohu Cthulu.
Přiklad jednotlivých typu jednotek - jednotka Gruntz, tři GSV, tři vehicle specialisti a jedna Mecha
Teměř jakoukoliv bojovou jednotku mužete vytvořit v Gruntz 15mm. Od jednotky Heavy Gearů podporované pěší jednotkou až po tankovou jednotku z knihy Hammers slammers. V současné době třeba pracuji na dvou armádach inspirovaných typickým temátem Scifi B-čkových filmu - planetarní invaze na jedné straně mám Americkou Namořní pěchotu složenou z pěších družstev a moderní techniky (HMMWV,M1A1,AAV7 atd.) a na druhé straně emzáky v power armouru použivající mechy a vtoly. Díky pružnému systému a množství různorodých scénařu jsou bitvy vyrovnané a zaleží jen na vás co si vyberete.
Většina lidí staví armády Gruntz tak že si vybere typ miniatur které jim vyhovují po designové strance, další zase mají nějaký koncept a podle toho staví armádu. které z těchto cest vám bude vyhovovat je jen na vás. Díky pravidlům na vytvoření jednotek mužete i libovolně kombinovat i jednotky od různých výrobců což je to nejlepší na 15mm protože každá firma která vyrabí miniatury má trochu jiný výběr. Lze použit i samozřejmně modely z ruzných jiných měřitek viděl jsem použivat modely s AT43 jako mechy nebo různé lehké drony z měřítka 28mm. Dokonce i mužete použit některé "hračky" napřiklad Hunter-Killer který byl součastí promoce filmu Terminator:Salvation lze použit jako skvělá Superheavy Dropship. Velice popularní jsou taky diecasty od matchboxu - napřiklad MRAPy, MATVečka ale i mnohé mnohé další
Model výsadkové lodě z filmu Final Fantasy: Essence života použit jako ASV
Pro začátek vám stačí na menší bitvy armáda zhruba na 150-200 bodů což jsou dvě družstva gruntz, velitel, vozidlo a několik specialistů. pokud by jsme se bavily o mém současném projektu tak by dvě protichůdné armády vypadali zhruba takto
USMC
Platoon Leader (Commander)
Navy Corpsman (Infantry Specialist)
2x USMC Squad (Gruntz)
2x Javelin Missle Team (Infantry Specialist)
M240 MG Team (Infantry Specialist)
1x HMMWV
Celkem 148 bodů
Invaders
Alien Overlord in PA (Commander)
3x Alien Heavy Infantry (Gruntz)
2x Alien Assault Mech (Vehicle Specialist)
Celkem: 145 bodů
zde jsou vzorové kartičky
Samozřejmně tyto dvě armády představují to nejmenší armády - ty větší by obsahovali mnohem víc jednotek v tomto připadě by jsme určitě viděli tanky Abrams, Helikoptéry AH-1 Venom, transportní vozidla a více pochoty. Mimozemštané by zase na druhé straně přinesly vice exotické techniky, velké mechy VTOLy a možná i nějaky kanónfutr v podobě lehké pěchoty. Idealní start tedy je začit na 150 některé firmy jako třeba GZG nabízí platoon packy které obsahují základ pěchoty, těžké zbraně a několik jednotek vhodných na vehicle specialisty (různé grav-biky nebo jiná mála vozidla)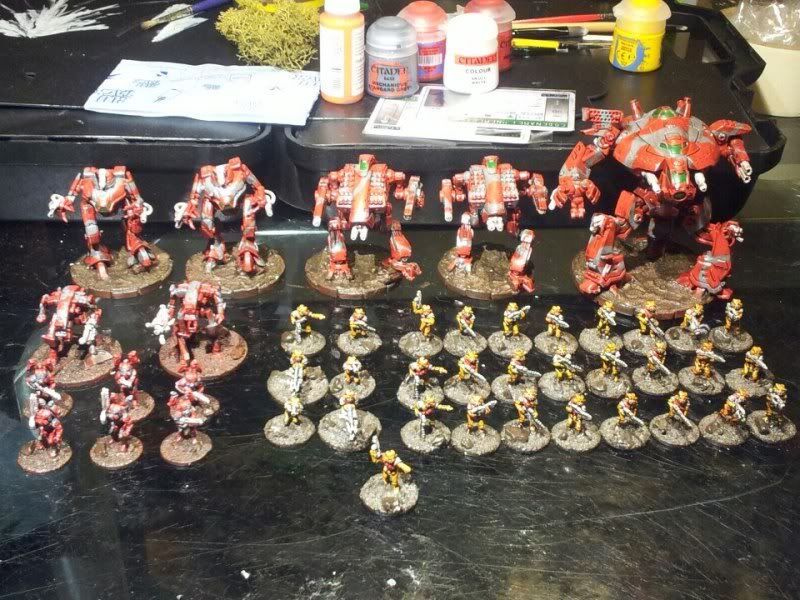 Typická armáda kreveťáků od GZG obsahuje několik družstev normalní pěchoty, pěchoty v PA, dva lehké mechy (Vehicle specialist) , commandera a několik Mecha vozidel na ty tvůrce použil Mechy ze hry Mechwarrior: Dark Age.
Doufam že vám článek alespoň trochu pomohl a nyní se mužete vrhnout do světa Gruntz 15mm a vytvořit si vlastní jednotky armády.