While i like scifi there is something about Near-Future Combat that i like. They are two routes how to do it first is use Tomorrow War/Force on Force which is little hard to get into but then it is awesome ride and you can recreate some favorite battles from various games as whole game is scenario based. The another thing i suggesting is using Gruntz 15mm for 20mm combat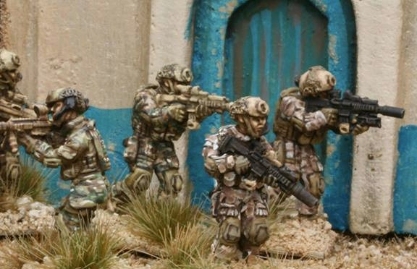 I own few of Elheim miniatures which are one of the best minis on market - for 20mm moderns i think they are best.
Elheim also produce some near future and scifi stuff
Since 20mm is really close to 1:72, there are lot of diecast vehicles (i saw italiery Stealth hawk in this scale - you know that chopper used in Bin Ladin assassination)
There are lot of choices that can be used from Ultramodern Israeli, Throught US,Russia and Chinese back to Middleeastern armies and insurgents.
Gruntz system is very open and easy to explain to new comers not mentioning the capability of creating various hightech gadgets like power armour, drones or even mechas and introduce them into game to give it SF feel
Here is some sample cards i created for it but i would propably use different. so stay tunned and expect more progress